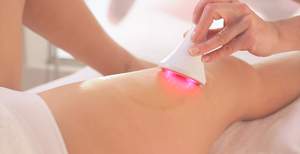 Bodystyling
Body accents
Bodystyling is the name for a new innovative formula that leads to quick and efficient visible results which include firm bottom, flat belly, elastic connective tissue, and a slim and beautiful silhouette. We tune your body to top form with specifically tailor-made treatments! We specially design and develop an individual program for you and your needs to achieve optimal results.
Bodystyling with Electroporation & Radiofrequency
Through a scientifically proven transdermal transportation technique, the mesolab in combination with radiofrequency, a special active ingredient combination from the My[B]CODE line is transported non-invasively into the skin. Our professional body lab is 100% natural, without biotechnology. We achieve sensational results against cellulitis, stretch marks and flaccidity.
Bodystyling with Microdermabrasion
Through the controlled and gentle abrasion of dead skin cells with the Reviderm SkinPeeler, the surface of the skin becomes smooth, stronger, and nutrition reaches the deeper skin layers effectively. After the microdermabrasion a special wrap is applied to firm, reduce mass, and increase circulation.
Bodystyling with Lavée
Using effective wrapping methods resp. bodywrapping a significant improvement in skin complexion is achieved. Individual active ingredients such as Chinese healing earth, minerals, trace elements and fresh algae are mixed together according to your individual needs and problem areas targeted and treated accordingly.
Bodystyling with Power Plate
Use Power Plate 2 x 10 minutes ...
... and stay fit and healthy in no time at all - what sounds like a dream becomes reality with Power Plate: It is proven that two uses for 10 minutes per week are enough to improve muscle strength, your figure and your health.
Prices include 20% tax and are in €
| | |
| --- | --- |
| My[B]CODE Electroporation & radiofrequency upper legs | 180.-- |
| My[B]CODE Electroporation & radiofrequency upper legs 10 treatments | price upon request |
| Microdermabrasion + wrap | 80.-- |
| Terra Vit complete body wrap | 80.-- |
| China wrap | 40.-- |
| Power Plate 1 training | 25.-- |
| Power Plate 10 trainings | 199.-- |
| Power Plate 10 trainings + wraps | 499.-- |
| Power Plate 3 months | 360.-- |
Book your beauty program now
With a few clicks to your desired appointment.
Choose from our wide range.