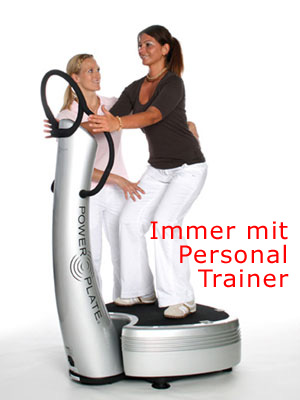 Power Plate – The 10 minute success
Little time - big results
Use POWER PLATE 2 x 10 minutes...
... and stay fit and healthy in no time at all - what sounds like a dream becomes reality with POWER PLATE: It is proven that two uses for 10 minutes per week are enough to improve muscle strength, your figure and your health.
How does the POWER PLATE concept work?
The secret to Power Plate is the way it operates. It produces multi-dimensional vibrations to give you the specific results you want. Using accelerations Power Plate is able to trigger up to 50 muscle reflexes per second which activate almost all muscles in the body.
FITNESS, WELLNESS AND MEDICAL PREVENTION
Power Plate uses its magic vibration technology not only for the benefit of muscle toning, but also for a broader range of benefits:
Beauty
There are good reasons why Power Plate is referred to as the "beauty secret of Hollywood stars" – The media reports regularly about the use of Power Plate as an integral part of the beauty program of actors and models. The regular use of Power Plate for 10 minutes twice a week can give you convincing beauty results in just a short time. This is a minimal amount of time you certainly can make available and dedicate to your wellbeing and appearance.
Health
Health is our most important treasure, and it deserves some proactive action. Don't wait until your body rebels and calls the deficiencies to your attention.
With the use of Power Plate you can provide a great amount of health maintenance. Power Plate is used for both preventive as well as therapeutic purposes.
Well Aging
It is obvious that different age groups have different needs and demands, a matter taken into consideration during the development of Power Plate. There are two factors in "aging" – The normal aging process and hormonal changes. During the hormonal change the body undergoes significant changes, even if the spirit remains young and dynamic. Continue to enjoy your vitality and stay fit and healthy with Power Plate.
It is not a matter of aging, but one of being able to enjoy a high quality of life well into an advanced age.
Fitness
Who would not want to be fit, have a trained and toned body, and a good appearance? But – nobody is perfect.
The accelerations produce muscle reflexes which are significantly more intensive than conventional muscle training. It comes as no surprise that Power Plate is also used by top athletes, and that it is an integral part of the training program of numerous international professional athletes.
With Power Plate you can address your personal goals:
10 minutes Power Plate instead of 1 ½ hours sweaty training
Weight loss
Quick muscle build up and body forming
Anti-cellulitis training
Relaxation massage
Prevention of back pains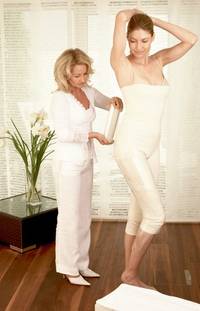 Fights CELLULITIS and promotes FIRMNESS:
To counteract persistent cellulitis we offer special wraps together with the Power Plate Training. Carefully selected active ingredients help you achieve your goal to reduce cellulitis, strengthen the connecting tissues, reduce your girth, reduce fatty deposits and stimulate your metabolism. We recommend a total of 10 treatments, 2 per week, for a flatter and firmer skin.
Restrictions
There are illnesses and physical circumstances where Power Plate cannot be used at all (absolute restrictions), or where it can only be used under certain circumstances and/or with some restrictions (relative restrictions). Since the scientific knowledge is continuously changing it is possible that the following list may change.
Absolute restriction applies for:
Acute illnesses or infectuous processes
Trombosis
Fresh wounds or surgical procedures less than 6 to 8 weeks old
Implants less than 6 months old
Stents and bypass-surgeries less than 6 months old
Advanced osteoporosis with fractures (t-score over 3.0)
Untreated high blood pressure
Severe diabetes mellitus with microangiopathy/gangrene/diabetic foot
Brain pacemaker
Pregnancy
Relative restriction applies for:
Non-acute back pains
Stents and bypass-surgeries more than 6 months old
Implants more than 6 months old
Kidney stones/gall stones
Cardiovascular diseases
Tumors, chemo therapy or cancer therapy*
Pacemaker*
Arthrosis
Epilepsy
Rotatory or positional vertigo, motion sickness
* This has to be authorized by your physician
At Shannon Cosmetics you can do your Power Plate training in a relaxing private area with a personal trainer at your side, and your training program will be adapted regularly to your individual needs. Free towels are at your disposal, and you won't even need a training outfit. Enjoy your training and achieve your personal goals with us.
Only 2 x 10 minutes
per week regularly
Prices include 20% tax and are in €
| | |
| --- | --- |
| Power Plate 1 training | 25.-- |
| Power Plate 10 trainings | 199.-- |
| Power Plate 10 trainings + wraps | 499.-- |
| Power Plate 3 months | 360.-- |
Book your beauty program now
We looking forward to treating you!
We would be happy to take your booking appointment by phone
Tue-Fri.: 9-20 under 01 512 34 31 or you can also book via
our online booking calender.

Should your desired appointment not be available online
pls give us a call.

TIP: To save you time, have a look at the online calender
and check your desired appointment time and give us a call.
That way you don't have to spend time filling out the form.