What's your nail type?
Like there are different types of hair and skin, there are also different types of nails that require individualized treatments. JESSICA, with many years of experience in the manicure field, realized that there is no single product suitable for all nail types. With the help of the best chemists a line of different lacquer bases was created to make sure that you will have the right one to enjoy a lifetime of beautiful and healthy nails.
Use the JESSICA guide to determine your nail type and to solve your individual nail problem, or come visit us for expert advice and expert treatment using the JESSICA system.
How would you describe your nails?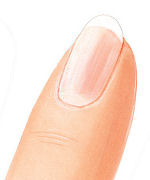 Normal
This is the goal
These nails are pink, strong, smooth and flexible
Reward them
Your basecoat: Reward. Maintains healthy, normal nails. Vitamin-rich therapy includes Vitamins A, C, D & E and natural botanicals.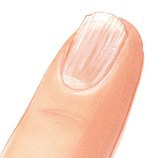 Dry
Lack moisture
May have pronounced ridges
They may have white spots or powdery finish
Your basecoat: Rejuvenation. Adds much needed moisture to nails, intenstive complex of Protein KSW, Jojoba, Vitamin E and Warter condition and heal nails.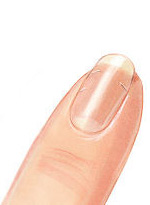 Brittle
Very hard, inflexible
May be curved
Tend to shatter
Break high on the nail
Your basecoat: Recovery. Restores suppleness and alleviates breaking, moisturizing protein, calcium and water complex increases flexibility.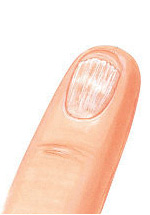 Damaged
Thin, weak
Cracked
Lack luster
The nails show no new grow
Your basecoat: Restoration. After-acrylic nail basecoat, restores and rebuilds damaged nails from foundation to surface.
Weak
Truly in need of some critical care
They're soft, weak, lifeless
Just won't grow
Your basecoat: Critical Care. Basecoat for weak nails. Intensive complex of Keratin, Soy and Wheat Proteins with Calcium hardens severly weakened nails. Helps strenghten nails.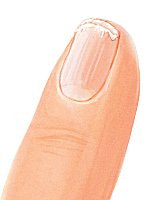 Peeling
Can occur in all nail types
This problem must be addressed first
Never file on the peeling area
Your basecoat: Fusion. Stops nails from peeling, chipping and flaking. Rubberized resins fuse the delicate layers of the nail together. Helps strenghten nails.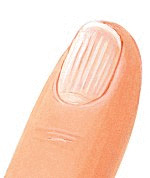 Have Ridges/Imperfections
Surface unsightly
Unsmooth
Ripply in appearance
Your basecoat: Flawless. Hides ridges and imperfections, protects and strengthens the nail.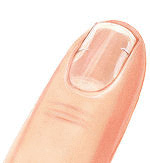 Break easily
Thin, fragile
Prone to splitting or breaking
Need extra support to grow
Your basecoat: Life Jacket. Instant support for nails that easily break. Natural Fibers cushion the nail to protect them from breaking.
Book your beauty program now
We looking forward to treating you!
We would be happy to take your booking appointment by phone
Tue-Fri.: 9-20 under 01 512 34 31 or you can also book via
our online booking calender.

Should your desired appointment not be available online
pls give us a call.

TIP: To save you time, have a look at the online calender
and check your desired appointment time and give us a call.
That way you don't have to spend time filling out the form.