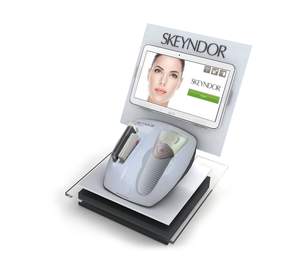 Personal Care Consultation
Our skin type is predetermined by nature and, in general, is not modifiable, but the condition and appearance of our skin is influenced by nutrition, stress, care, and a range of other factors including heat, cold, environmental pollution and UV-rays.
However; only those who really know and understand their skin type, the appropriate skin care treatments and skin care products can effectively avoid wrinkles, redness, dry spots and imperfections.
Drop by for a consultation!
With the My Skin Diagnosis device from Skeyndor 7 parameters can be measured. Your skin type is measured. You can see if there are already pigmentation spots under your skin and can combat their appearance on the skin surface, if your pores are clogged, if and how deep your wrinkles are in comparision to your age, your moisture level, etc.
At your free consultation, you will find out what skin care your skin needs to look beautiful and brilliant. The skin care consultation includes:
An extensive skin analysis
Information about your particular skin type
Skin care tips & treatment tips
Skin specific product information
Price: € 30,- (if you book a facial, the skin diagnosis is for free and included in your treatment)
Give me a call, I am looking forward to your telephone reservation
which can be made by contacting me at 01/512 34 31
Book your beauty program now
With a few clicks to your desired appointment.
Choose from our wide range.