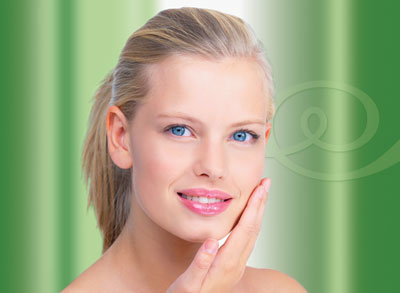 Electroporation with summecosmetics
Our secret weapon
With summecosmetics, the sensational cosmetic technique, with mesolab, a new era in beauty treatments has dawned.
The human skin is considerably different from the membranes of individual cells. The biggest skin barrier is the stratum corneum. It is mechanically very stable and has an extremely high resistance to electricity, thus forming an excellent barrier for water soluble molecules. If the stratum corneum is exposed to electricity, then a rapid reduction to its resistance occurs at approximately 60 volts, and the skin becomes permeable to electricity. This process forms small aqueous channels in the stratum corneum which allow the transfer of substances through the skin.

During electroporation we carefully transfer an array of active ingredients specifically selected for each customer into the customer's skin. The membrane is destabilized using an electric field which uses electrostatic forces to gently transfer aqueous solutions into the membrane.

The Mesolab is a non-invasive method of treatment. Through the combination of electroporation and phototherapy, substances can be transported through the skin in a painless, non-invasive (as opposed to mesotherapy) way and with no side effects.

Electroporation consists of the application of brief voltage impulses on the cells and tissues. These special electric impulses act on the cell membranes, specifically on the lipid intercellular spaces, causing molecular changes which bring about the formation of ultramicropores and in turn increasing the permeability of the skin, particularly on the stratum corneum.
We recommend a total of 10 treatments once or twice a week.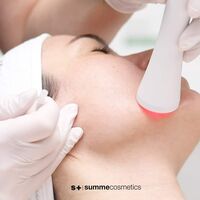 The electroporation is successful in the combat of:
FAQ
When should Electroporation not be used?
If you are using a pacemaker.
If you have a muscular or nervous disease
If you suffer from epilepsy
If you are pregnant or breast feeding a baby
If you are suffering from cancer, malignant tumors, etc.
If you have orthopedic implants (such as knee or hip replacements)
How long is an Electroporation treatment?
Aproximately 30 to 40 minutes, depending on the area that is to be treated.
Is Electroporation painful?
What active substances are being transferred?
Depending on the individual skin condition and needs a customized blend of active substances is used. We offer, among others, hyaluronic acid, vitamin C, DMAE, elastin, argireline, poly-vitamins, silicon, rutin, glycolic acid, etc.
What is the advantage of Electroporation as compared to most other methods?
Most transfer methods will manage port only up to 10% of active substances into the skin. Using electroporation up to 90% of substances are transferred into the skin. Compared to mesotherapy with needles there will be no bruising or reddening of the skin using Electroporation.
Are there any side effects to Electroporation treatment?
Book your beauty program now
We looking forward to treating you!
We would be happy to take your booking appointment by phone
Tue-Fri.: 9-20 under 01 512 34 31 or you can also book via
our online booking calender.

Should your desired appointment not be available online
pls give us a call.

TIP: To save you time, have a look at the online calender
and check your desired appointment time and give us a call.
That way you don't have to spend time filling out the form.