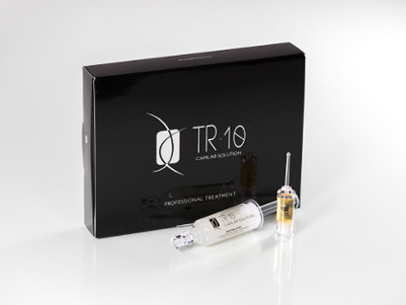 Hair Growth with TR10
Stops hairloss and causes hair growth!
If the whole TR10 Capilar Solution range is used consequently you will achieve spectacular results in short time. You can treat androgenetic, age-related, hormonal hairloss and even Alopecia Areata successfully.
Ingredients are 100% natural origin. Actives take effect and based naturally – with no side effects or contraindications. Products free of parabens and silicones.
Ideal to combat not only hair problems but also skin problems of all kind that affect the hair scalp. It regulates the scalp and helps against psoriasis, dermatitis, itching, dandruff, and hypersensibility.
Meanwhile there are several hospitals in Spain that recommend TR10 after chemotherapy. Hair grows stronger and faster.
The center piece is TR10 Capilar Solution - this outstanding regenerating concentrate activates hair follicle and normalises its function in its degenerative phase, whereby distortion of the hair follicle is prevented.
The line consists of 4 products: detox shampoo, restructuring hair mask, daily care lotion - TR10 Capilar Solution and TR10 Professional Treatment for weekly use.
To push results to a maximum we recommend treatments with [RF]Lab to stimulate the hair follicle further. This treatment is recommended on weekly basis. You will be delighted!