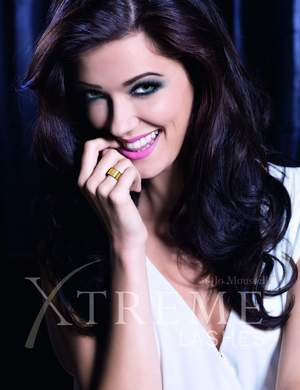 Lash Extensions
"With high quality and safety standards"
EYE LASHES
You feel like your lashes are too short, thin or not dense enough?
You dream of long, curved and dense lashes?

The desire for perfect and stunning eyelashes surcharge can be fulfilled now. We glue lash for lash, at least one lash per natural lash. No matter if you would like a natual look or a glamorous style, we will give you an expressive eyelashes surcharge as well as sparkling eyes with an incomparable look.
We recommend 1 to 1 procedure to protect your eyelashes, we have though also 2D and 3D eyelashes on stock for you. We are flexibel and can fulfill your needs.
We also offer lash-perm or lash-lifting, which is a natural alternative to lash extensions.
EYE BROWS
With brow lamination we can form and smooth out your eye brows, fitting best to your face shape. The results are visible for 2-3 weeks. You will be delighted!
FAQ
What do you understand by a permanent eyelashes extension?
This gentle method, applies eyelash by eyelash, at least one synthetic lash on a natural lash. The extensions are applied approx. 1 mm from the lash line. Therefore you don't feel the extensions.
The term "permanent" is relative. Every natural lash has a lifetime of 2-3 months until it falls out - the extensions falls out with your natural lashes. To keep the attractive look of "permanent" eyelashes extension you should have a refill done every 2-4 weeks.
How does the procedure work? How long does it take?
If you wear contact lenses take them out before treatment.
The initial treatment takes approx. 2 hours. This sounds very long, but you lie on a comfortable daybed with a cozy blankett and are able to relax.
First there is an anamnesis. During the conversation the technique and which extensions you would like are also discussed. The length depends on the thickness and length of your natural eyelashes. The extensions shouldn't be too heavy, or else your natural lashes could be damaged.
With a special pincette the lash stylist takes an extension and isolates one of your natural lashes with the second pincette. The extension is dipped into a special adhesive and applied exactly 1 mm from your lash line on your natural eyelash.
You look immediately afterwards fresh and radiant, without having to refrain from a natural look.
Does an eyelash extension hurt or is harmful for the eyelash or eye?
Only eyelashes that have been applied wrong or tufts that were applied on several natural eyelashes simultaneously damage your natural eyelashes permanently. The applied extensions shouldn't be too long or too heavy for your own eyelashes, that could also damage your own eyelashes. The application is not painful.
What do you have to pay attention to?
On the day of your appointment you shouldn't apply mascara or eye make-up. Otherwise your eyelashes would absorb the oil of the mascara or eye make-up and it would be difficult to degrease them. Even if you remove it shortly before, the extensions would not hold well.
If you wear other synthetic eyelashes, e.g. bands or tufts, you should have them removed one day prior to your appointment. Dye or perm your eyelashes at least 48 hours prior to your appointment.
After the application within the next 24 hours you should not take hot showers, go swimming or go to the sauna. Don't rub your eyes resp. eyeslashes as long as you have the extensions.
For a long-lasting effect don't use oil-based mascaras (you actually don't need that anymore) or make-up remover.
Prices include 20% tax and are in €
| | |
| --- | --- |
| NEW SET | |
| Natural Look (approx. 50 lashes per eye) | 150.-- |
| Mascara Look (approx. 80 lashes per eye) | 180.-- |
| Dramatic Look (all lashes per eye) | 200.-- |
| | |
| REFILLS | |
| Natural Look | |
| after 2 weeks | 40.-- |
| after 3 weeks | 50.-- |
| after 4 weeks | 60.-- |
| after 5 weeks | new set |
| | |
| REFILLS | |
| Mascara Look | |
| after 2 weeks | 55.-- |
| after 3 weeks | 65.-- |
| after 4 weeks | 75.-- |
| after 5 weeks | new set |
| | |
| Brow Lamination | 59.-- |
| Lash-Perm | 59.-- |
| Lash-Lifting | 59.-- |
| | |
Book your beauty program now
We looking forward to treating you!
We would be happy to take your booking appointment by phone
Tue-Fri.: 9-20 under 01 512 34 31 or you can also book via
our online booking calender.

Should your desired appointment not be available online
pls give us a call.

TIP: To save you time, have a look at the online calender
and check your desired appointment time and give us a call.
That way you don't have to spend time filling out the form.