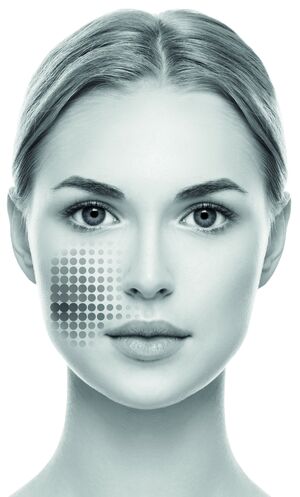 Microneedling
... now it is easy to grow old and stay young!
Microneedling is a revolutionary system in the field of anti-aging - and with immediate effect! Right after the first treatment you will notice a difference. You will be amazed by the so called "Microneedling ironing" effect!
This treatment focuses on reduction of wrinkle depth resp. completely vanishing of small wrinkles, stretch marks becoming smaller or disappearing completely, reduction of fat depots, vanishing of pigmentation spots (blemishes) and improved firmness.

Microneedling can be used on the face, neck, chest, on the back of hands and problem zones on the body.
Treatment: The corneocites are loosened with a chemical quick-peeling. The appropiate biomedical solutions cocktail is chosen and applied to the skin, each area is individually treated with microneedling, addtionally the areas are treated with Mesolab. At the end a regenerating mask is applied, skin care. Duration 1 hour


FAQ
How do the ingredients get into the skin?
We use modules with 12 needles to bring the actives into the skin.
How often is a treatment necessary?
Depending on skin type we recommend a total of 8 treatments once or twice a week.
How long does a treatment last?
Depending on the areas to be treated a treatment will last between 20 minutes and one hour. Very important is the home care.
When can a Needling treatment NOT be done?
You have hemophilia
You have diabetes
You have hepatitis A, B, C, D, E, F
You have HIV infection
You suffer under skin diseases in general (e.g. Eczema)
You have allergic reactions to the treatment materials
You have diseases with immune deficiencies
You are using medications which suppress the immune system
You have an autoimmune disease
You are using anticoagulants
You have sexually transmitted diseases
You have acute infections with fever
You have other chronic or acute illnesses
If you are pregnant or still breast feeding
If you are under 18 years of age
Are there side effects?
There will be no long lasting side effects if the treatments are done correctly. Some redness and swelling after a treatment are not uncommon. To warrant successful results it is very important that the home care recommendations are followed thoroughly.
Prices include 20% tax and are in €
Book your beauty program now
We looking forward to treating you!
We would be happy to take your booking appointment by phone
Tue-Fri.: 9-20 under 01 512 34 31 or you can also book via
our online booking calender.

Should your desired appointment not be available online
pls give us a call.

TIP: To save you time, have a look at the online calender
and check your desired appointment time and give us a call.
That way you don't have to spend time filling out the form.