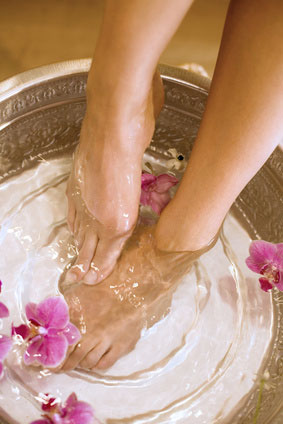 Pedicure
"Any path is too long for tired feet"
Georg Büchner, Leonce und Lena, 2. Act, 2. Scene / Leonce
Enjoy our professional and extensive pedicure – relax in a seperate area. Our treatment includes pedicure, removal of calloused skin and corns, and treatment of ingrown nails. For prevention of ingrown nails we offers treatments with clips.
Hygiene is very important to us, that is why our foot tubs are covered with a bag for every single client. Naturally, we work with gloves and mouthpieces.
Last but not least, our special treat, a footmassage – for an attractive appearance, whether barefoot, in sandals, flip flops or hip peep-toes.
If you wish a long footmassage and/or a footwrap with paraffin for extremely smooth skin just let us know in advance and we will reserve extra time for you.
Walk-in is also possible, you don't have to necessarily book a treatment in advance.
We also offer mobile pedicures. Within a 200 meter radius from our location we can also do the pedicure at your house. During the whole stay of the pedicurist you have to wear a FFP2 mask and the room has to be thorougly ventilated before the pedicurist comes. Many thanks! The price includes travel time.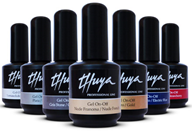 ON-OFF gel - Shellac - semi-permanent
Finally - a longer lasting colour that lasts to your next pedicure!
You do not have to squeeze in a pedicure before an important event. pedicures with Thuya semi-permanent nailpolishes resp. gels won't chip, peel, fade and will last for three-to-four weeks, so go ahead and enjoy your pedicure.
A special feature of the Thuya ON-OFFs, the primer does NOT CONTAIN ACIDS and in turn doesn't damage the natural nails. Also the take-off lotion contains argan oil and nourishes your nails. You will be delighted how nice your nails will look after a ON-OFF gel treatment.
YOU CAN CHOOSE BETWEEN OVER 100 COLORS.
Prices include 20% tax and are in €
| | |
| --- | --- |
| Pedicure without nailpolish 30 min. | 37.-- |
| Pedicure with nailpolish 35 min. | 39.90 |
| Pedicure with ON-OFF Gel (Shellac) 1 hour | 57.-- |
| Pedicure without nailpolish + foot wrap 45 min. | 47.-- |
| Pedicure without nailpolish + foot massage 1 hour | 57.-- |
| Mobile Pedicure depending on with or without nailpolish, Shellac | from 65,-- |
| Clip | 26.-- |
Book your beauty program now
We looking forward to treating you!
We would be happy to take your booking appointment by phone
Tue-Fri.: 9-20 under 01 512 34 31 or you can also book via
our online booking calender.

Should your desired appointment not be available online
pls give us a call.

TIP: To save you time, have a look at the online calender
and check your desired appointment time and give us a call.
That way you don't have to spend time filling out the form.